This is our solar system and their specs. We paid approximately 4000€ in September 2020 to a company for install. In terms of living experience we have only spent 2-3 months in the place by one single person and I can briefly discuss the experience so far and what you can and cannot do and my thoughts regarding that.
I have been working full time with a computer and this has not at all been an issue and I have also used power tools without much issue. However, despite technically being able to support a load of over 2000w then using heavy energy consumption items like this is problematic for a longer period of time. For example, I have used a portable cooker and honestly it works fine and probably recommended during the day where there is sun but during the night I was not comfortable using as the system started to beep and I did not want to deplete the battery at night which certainly could happen and at those times I had to wait for the next day where the battery went operational somewhere 8-10 am. I much prefer to use gas cooker which is very affordable and easy.
In hindsight unfortunately we were a bit optimistic in terms of how little system we were able to use and for what purpose we had intended. You can easily live a perfect life with this system but only if you are happy to use alternative methods to the following items:
Stove
Oven
Dishwasher
Washing machine
Electrical heating
Aircondition
The aircon I can certainly live without but the other 5 caused us to try to connect to the grid instead which was very nominal cost in our case AND we get some money back for the electricity we are generating. However, should I do this again I would go in for a much larger package and say we would double the investment then we could probably live fully offgrid comfortably. Now having installed the system it is less tempting to upgrade the system as it does not appear as easy as just adding more solar panels, more batteries as I believe the majority of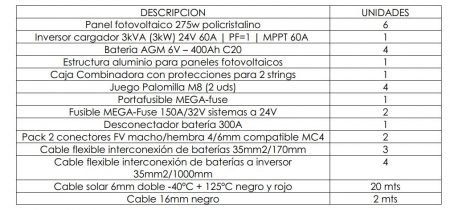 Alternative solutions that may have worked for us with better planning
Dishwashers
I first started looking for low energy dishwashers (I know this is a bit luxurious but important for me) and I realised that the typical low energy dishwashers still used a lot of electricity and required strong connections. However, later I found out that there is a tabletop dishwasher called Bob that is quite affordable, only uses 1000w and what is even great is that it uses a separate water tank allowing you to be truly offgrid. It finishes a washing cycle in 20 minutes only.
Oven / Stove
Depending on where you live in the world you may already be using gas for cooking. In my case, it is not very common at all but I discovered how cheap, good and easy it is using propane and you either go fixed or you can go portable. I was considering putting in a gas stove with a big tank but at that point I already had bought a normal stove, a portable gas stove as well which and the fact that I needed a gas subscription and a qualified technician to install it steered me away from that option. Also where I looked a gasstove was also a lot more expensive than electric but it is certianly a viable option.
Slowcookers
It would not be difficult to argue that offgrid living could mean living simple and rather than having ovens or stoves then you could simply use a slowcooker. These use 100w which would work well, even for a remote battery.
Portable Power Stations
We got a gasoline generator but I honestly feel terrible running it due to noise but also the pollution but also for respect of the neighbours. It was not a good purchase but I would very much consider investing in a small or large portable power station. What is cool about these is that you can charge them using many different sources and should be nice as a backup. I have not made the purchase yet but it seems like I would consider to get a very small one at first just for the very basic communications (phones, laptops etc) or go a bit more all in with having one for more energy demanding one. For example, I would be more comfortable turning on electrical heating during the night to a battery pack (when it goes, it goes!) rather than having my main system become depleted and having to wait for the sun to come up.
Starlink Internet
Despite very expensive, the starlink subscription appears to be a very cool option to get high speed internet in case you are not otherwise able to get it.